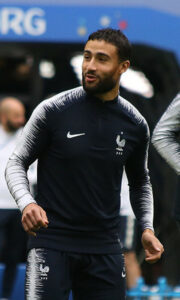 This event went like fire all over Spain: one of the main goals of Liverpool (and the best player in France according to Neymar) was suddenly brought into a pretty, but still middle peasant. AS called this transfer a belated April Fool's prank.
President Angel Haro was mega-pleased and did not hide the ambitious swing at the Champions League. "With this guy, we are going to reach a new level," explained former football team player Ivan Perez. – His transfer should be compared with the purchase of Denilson. Nabil will make the football team much more confident and stronger. I just know it. We all know that."
Wild dreams did not come true at all. Just six months later, trudged sadly near the relegation zone.
"This was not a disaster," Aro later admitted. – We simply did not fulfill the ambitious goals that we set before the start of the season. "Betis" was disoriented and did not quite understand the reality. The football team wanted to achieve something. We understood: it's time to break something urgently – otherwise, Betis will just stand still.
Fans of "Betis" were preparing for a massive sale. But the President did not make unnecessary movements and instead of "Black Friday" arranged an invitation for Manuel Pellegrini.
Pellegrini tackled the mentality. The main secret is simplicity and tranquility
Aro calls the decision to call the Chilean a jackpot. It's hard to disagree with him – before the arrival of Pellegrini, chaos was happening in the football team. It was very sad with the previous coach Ruby: the results seriously sank, and toxicity reigned in the locker room. Ruby struggled to control star players due to lack of authority: everyone went straight to veteran Joaquin or captain Andres Guardado for advice.
"During that season, we were not at all happy to win," Pellegrini recalled. – After each game, we waited for the next one – and after that we were often disappointed in ourselves. What we lacked was constructive self-criticism. And it cost a lot. Then we did not understand anything. I also got left out."
With the arrival of Pellegrini, the situation immediately changed. Manuel is known for his quick rapport with players, all because of his infectious calmness.
Manuel is also a very balanced person. If you win, you are not the best yet. If you lose, you are never the worst. In this regard, we are very lucky: relations with the coach are built on mutual solidarity."
In Pellegrini's first season, the football club was heavily involved, but the good atmosphere was reflected in the results: from January 2021, the football team settled in the European Cup zone and eventually came in sixth place. After the failure of Ruby, the progress of the name of the Pellegrini was perceived especially positively.
Pellegrini does not pump footballers with installations
Third place during this season does not want to be called a mere anomaly. Although a huge share of luck is still present. According to the expected points, Betis is only seventh. Only behind the luck lies the colossal work of the coaching staff. Pellegrini brilliantly prepared the players for the squeeze on three fronts: Betis is still fighting for the Cup and looks much fresher than many of the competitors.

By almost all metrics, Pellegrini has built a Europa League level football team, but he is in the top three with it. They have a great attack, but the overkill in terms of results is still noticeable. "He changed Betis psychologically," Aro Marca explained. "Pellegrini did the unthinkable behind the scenes: abruptly turned into a lion. Have you seen how we play in top matches? This is not a coincidence. Manuel has become our sedative."
Such a sharp progress of the football team can be explained by a combination of a decline in competitors and an excellent summer pre-season. They correctly distributed forces and are now reaping the benefits of quality training.
"There is no euphoria. We are not worried," Bartra said. – We believe in ourselves. The coach does not overload the players, and in training everything is just fine. Some make you die in training, but Manuel is not like that. He helped save more energy for the season instead of wasting them on useless running around in the gym.
The main ones in Betis are Fekir and Canales
We realized that every element is important in the football team system. But the Pellegrini team also has its megastars. The system of the Betis game is built around the Fekir-Canales pair: they create scoring chances and are responsible for advancing the ball. At the same time, Canales usually plays a little lower – Fekir is located next to the forward.
Standard moment from Villarreal game: Sergio goes down and helps on the ball while Nabil stays in a higher position. Fekir and Canales have a similar style of play: both love to play with the ball and have more ten-man qualities. It was a little scary because of this: Pellegrini never liked static players. Manuel worked with a huge number of dozens, but he forced everyone to constantly move around the field, and often start from the flank.
Sergio and Nabil could become competitors for the same position, but Pellegrini decided otherwise. In his "Betis" there are two free artists at once. But the tasks of Sergio and Nabil on the field are clearly demarcated – although they can replace each other.
Betis' game model does not constrain him: Nabil plays all over the field. "Nabil is a versatile player," said former Betis teammate Aissa Mandi. "He plays in midfield, but he is constantly involved in the offensive phase of attack and loves to finish chances. Fekir is very important."
In the match with Rayo, Nabil also did not change himself. Gathered his opponents and opened a corridor for partners. He does this all the time.
Which of them is more important? It all depends on the pattern of the match.
Nabil prefers to advance through dribbling – Sergio is less individual and loves to give passes and shoot from a distance. Their duet is able to open any defense – and it is this versatility of leaders that makes Betis much more dangerous.